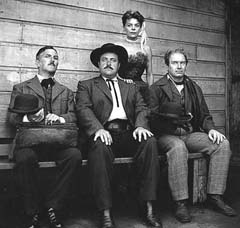 In the late 1940s, CBS chairman William S. Paley, a fan of the Philip Marlowe radio serial, asked his programming chief, Hubell Robinson, to develop a hardboiled Western series, a show about a "Philip Marlowe of the Old West". Robinson instructed his West Coast CBS Vice-President, Harry Ackerman, who had developed the Philip Marlowe series, to take on the task.

Ackerman and his scriptwriters, Mort Fine and David Friedkin, created an audition script called "Mark Dillon Goes to Gouge Eye" based on one of their Michael Shayne radio scripts, "The Crooked Wheel". Two auditions were created in 1949. The first was very much like a hardboiled detective series and starred Michael Rye (credited as Rye Billsbury) as Dillon; the second starred Straight Arrow actor Howard Culver in a more Western, lighter version of the same script. CBS liked the Culver version better, and Ackerman was told to proceed.

But there was a complication. Culver's contract as the star of Straight Arrow would not allow him to do another Western series. The project was shelved for three years, when producer Norman Macdonnell and Writer John Meston discovered it creating an adult Western series of their own.

Macdonnell and Meston wanted to create a radio Western for adults, in contrast to the prevailing juvenile fare such as The Lone Ranger and The Cisco Kid. Gunsmoke was set in Dodge City, Kansas, during the thriving cattle days of the 1870s. Dunning notes, "The show drew critical acclaim for unprecedented realism."

The radio series first aired on CBS on April 26, 1952 with the episode "Billy the Kid", written by Walter Newman. It ended on June 18, 1961. It starred William Conrad as Marshal Matt Dillon, Howard McNear as Doc Charles Adams, Georgia Ellis as Kitty Russell, and Parley Baer as Dillon's assistant Chester Wesley Proudfoot.

Very early episodes still in the archives reveal two episodes with Marshal Mark Dillon as the lead, not yet played by Conrad. Conrad was one of the last actors to audition for the role of Marshal Dillon. With a powerful, distinctive voice, Conrad was already one of radio's busiest actors. Though Meston championed him, Macdonnell thought Conrad might be overexposed. During his audition, however, Conrad won over Macdonnell after reading only a few lines. Dillon as portrayed by Conrad was a lonely, isolated man, toughened by a hard life. Macdonnell later claimed, "Much of Matt Dillon's character grew out of Bill Conrad."

Meston relished the upending of cherished Western fiction clichés and felt that few Westerns gave any inkling of how brutal the Old West was in reality. Many episodes were based on man's cruelty to man and woman, inasmuch as the prairie woman's life and the painful treatment of women as chattels were touched on well ahead of their time in most media. As originally pitched to CBS executives, this was to be an adult Western, not a grown up Hopalong Cassidy.

Dunning writes that Meston was especially disgusted by the archetypal Western hero and set out "to destroy [that type of] character he loathed". In Meston's view, "Dillon was almost as scarred as the homicidal psychopaths who drifted into Dodge from all directions."

Chester's character had no surname until Baer ad libbed "Proudfoot" during an early rehearsal. Initial Gunsmoke scripts gave him no name at all; his lines were simply slugged to be spoken by "Townsman". Again Conrad's sense of what the program would be supervened, and Chester was born. The amiable Waco expatriate was usually described as Dillon's "assistant", but in the December 13, 1952, episode "Post Martin", Dillon described Chester as Dillon's deputy. Whatever his title, Chester was Dillon's foil, friend, partner, and in an episode in which Chester nearly dies (S1E5, "Never Pester Chester"), Dillon allows that Chester was the only person he could trust. The TV series changed Chester's last name to Goode.

Doc Adams was, at first, a grumpy and somewhat dark character, but McNear's performances steadily became more warm-hearted. Doc Adams' backstory is elastic: In some episodes, he had educational ties to Philadelphia, in others he spent time as ship's doctor aboard the gambling boats that plied the Mississippi River, which provided a background for his knowledge of New Orleans (and acquaintance with Mark Twain). In the January 31, 1953, episode "Cavalcade", a fuller history is offered, even though subsequent programs kept close listeners' heads spinning. In "Cavalcade", his real name is Calvin Moore, educated in Boston, and he practiced as a doctor for a year in Richmond, Virginia, where he fell in love with a beautiful young woman who was also being courted by a wealthy young man named Roger Beauregard. Beauregard forced Doc into fighting a duel with him, resulting in Beauregard's being shot and killed. Even though it was a fair duel, because Doc was a Yankee and an outsider he was forced to flee. The young woman fled after him and they were married in St. Louis, but two months later she died of typhus. Doc wandered throughout the territories until he settled in Dodge City 17 years later under the name of "Charles Adams". The Adams moniker was another Conrad invention, borrowing the surname from cartoonist Charles Addams as a testament to Doc's occasionally ghoulish comportment.

Georgia Ellis appeared in the first episode "Billy the Kid" (April 26, 1952) as "Francie Richards", a former girlfriend of Matt Dillon and the widow of a criminal. "Miss Kitty" did not appear on the radio series until the May 10, 1952, episode "Jaliscoe". Kitty's profession was hinted at, but never explicit; in a 1953 interview with Time, Macdonnell declared, "Kitty is just someone Matt has to visit every once in a while. We never say it, but Kitty is a prostitute, plain and simple."[7] An out-take from the program makes this hilariously obvious. The television show first portrayed Kitty as a saloon employee (dance-hall girl/prostitute) then later as the owner of the Long Branch Saloon. Sometime in 1959, Ellis was billed as Georgia Hawkins instead of Georgia Ellis.

Gunsmoke was often a somber program, particularly in its early years. Dunning writes that Dillon "played his hand and often lost. He arrived too late to prevent a lynching. He amputated a dying man's leg and lost the patient anyway. He saved a girl from brutal rapists then found himself unable to offer her what she needed to stop her from moving into ... life as a prostitute." Some listeners, such as Dunning, argue the radio version was more realistic. Episodes were aimed at adults and featured some of the most explicit content of their time, including violent crimes, scalpings, massacres, and opium addicts. Many episodes ended on a somber note, and villains often got away with their crimes. Nonetheless, thanks to the subtle scripts and outstanding ensemble cast, over the years the program evolved into a warm, often humorous celebration of human nature.

Apart from the doleful tone, Gunsmoke was distinct from other radio westerns, as the dialogue was often slow and halting, and due to the outstanding sound effects, listeners had a nearly palpable sense of the prairie where the show was set. The effects were subtle but multilayered, giving the show a spacious feel. John Dunning wrote, "The listener heard extraneous dialogue in the background, just above the muted shouts of kids playing in an alley. He heard noises from the next block, too, where the inevitable dog was barking."

"Gunsmoke" was also unique from other westerns in that it was unsponsored for the first few years of production. The program got its support from CBS for the first two years. Series producers felt that if the show was sponsored they would have to "clean the show up" (Time, 1953). The show wanted to find a sponsor that would allow it to keep the show the way it was.